Tutorial for Evaluation of Lower Urinary Tract Symptoms in the Male (LUTS)
One of the most frequent complaints men have as they get older is urgency, dribbling, nocturia or frequency associated with not emptying their bladder completely. This is very often associated with benign prostate hypertrophy which is a progressive diseases.
The European Association of Urology has recommended the following steps in evaluating the adult male with lower urinary symptoms:
complete medical history
physical examination including digital rectal examination (DRE)
symptom assessment with the International Prostate Symptom Score (IPSS) questionnaire
PSA measurement
creatinine measurement
urinalysis
uroflowmetry
measurement of postvoid residual volume via transabdominal ultrasonography
To improve our consistency in evaluating LUTS, we have created an auditing tool which is entitled Audit for Lower Urinary Tract Symptoms (LUTS). The following steps guide you in the use of this tool.
You will find the Audit tool on the Physical Examination template for the Male Urogenital System. This audit tool is found just above the calculation of the PSA Velocity which we have discussed elsewhere.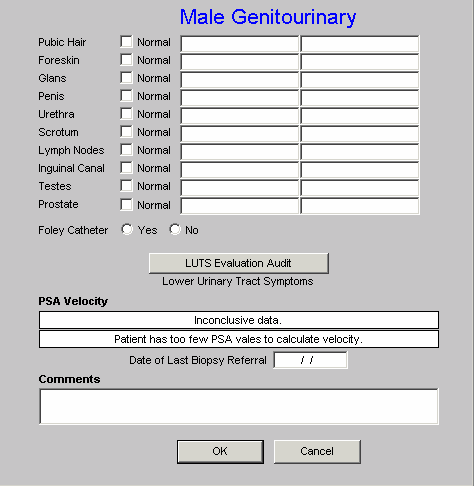 When you depress the button entitled LUTS Evaluation Audit, you will launch the following template.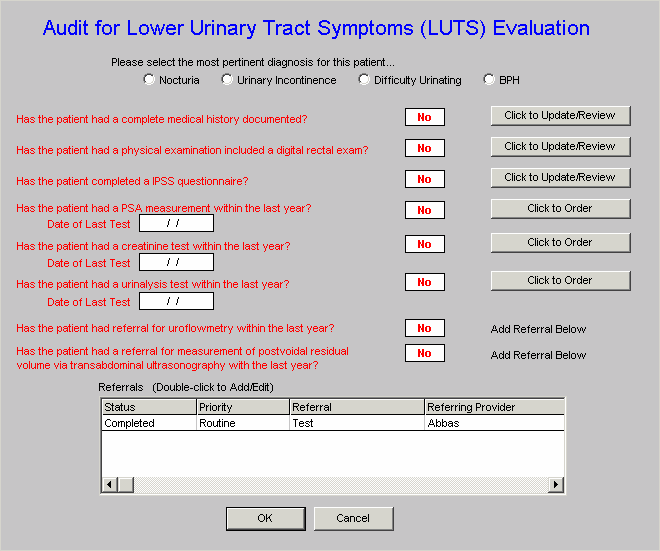 This tool audits the performance of the eight element of the proper evaluation of Lower
Urinary Tract Symptoms in the male. As with other audit tools, if the element is red,
with a "No" in the box, that element has not been fulfilled. If you depress the button next to that element which is entitled "Click to update/review," you will be directed to the place in the record where that element can be documented. If the element is black with a "Yes" in the box then that element has been met.
The last two elements require a referral to be completed for either a uroflowmetry and/or post-voiding transabdominal ultrasound to be performed. If you click in the Referral template, that will launch the referral template. You will complete the referral template as usual with these two elements being found in column one and column two.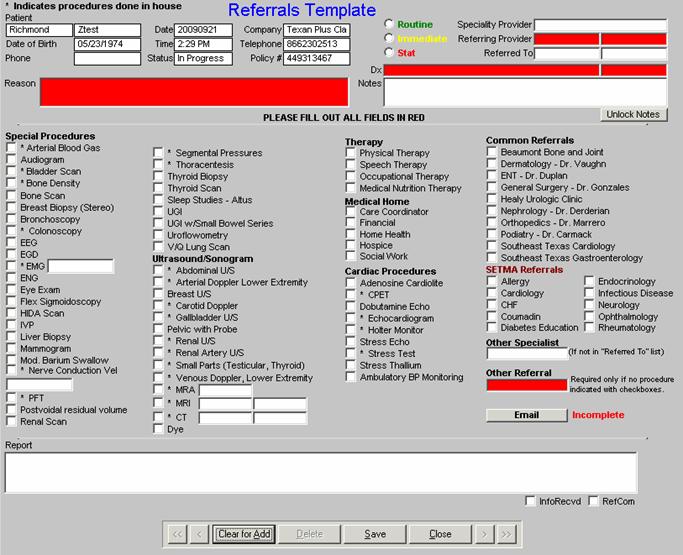 The third element of the eight is the completion of the International Prostate Symptom Score. That questionnaire is found on the Questionnaire Template which is found by depressing the button of that title in the Navigation button list to the right of your screen on the Master GP template. Once the score is calculated the results will be noted on the LUTS Audit right under the IPSS Element.
Once you complete these eight elements, a document will be created the contents of which will appear on your chart note.