Appendix D
Governance Board
LD 04.04.09 The Organization Uses Clinical Guidelines to design or improve processes that evaluate and treat specific diagnoses, conditions or symptoms.
Electronic Patient Management Tools
This section of SETMA's website is intended to make available to our colleagues and medical community information about the tools which we have built in order to improve the quality of care we provide our patients. The first document is a discussion of the philosophy which guided SETMA's development of our EMR and which directed us to the concept of electronic patient management. (Click Here to Read) As will be seen, a great deal of what we have done has been founded upon the work of Peter Senge at MIT and which was presented in his book, The Fifth Discipline.
The making of this material available on our website, is a further step in one of SETMA's goals. It is not intended to be pretentious, as it may appear so, but the genesis of this effort began nine years ago when a very good friend of SETMA asked the question, "What is your goal; what do you want to accomplish?" I said, "I have never said this out loud, but I want to change how healthcare is delivered in America." I realized then and do so now, the improbability of that becoming a reality but this is the motive behind our giving unfettered access to these tools to anyone.
These tools are built upon the NextGen@ EMR platform. In order to make the tools work as a plug-and-play function, it would be necessary to purchase their product, but other than that, there are no fees required to download, to study and to learn from the tools which we have developed.
Where did the concept of "electronic patient management" come from? In May, 1999, SETMA published a paper entitled, "More Than a Transcription Service: Reorganizing the Practice of Medicine With Electronic Patient Records (EMR)". That article is still on our website under Your Life Your Health. At that time, SETMA had been using EMR for only four months. We began Tuesday, January 19, 1999, after having purchased the EMR in March, 1998. By May, we already recognized that succeeding with an EMR was a short-sighted goal. We began to understand that if all we were gaining with EMR was an electronic means of documenting a patient encounter, it was too expensive and too hard to justify the expense and the effort. Our goals changed and we began to pursue "electronic patient management" (EPM). EPM focused on the gaining of leverage and advantage in patient care and treatment outcomes with the EMR. EPM remains our goal to this day and has been the guiding principle in the development of our disease management tools, our patient-care functions and our reporting modules.
Celebration
It was in May, 1999, that we had a sentinel event which has continued to define our efforts in development of EPM. In that month, my co-founding partner, Dr. Mark Wilson, speaking of where we were in the use of the EMR, lamented, "We haven't even begun to crawl." He was discouraged and worried that we had bought a very expensive and useless toy. I responded, "Mark, when you oldest son turned over in bed, did you call you wife and say, 'this retarded child can't even crawl all he can do is turn over in bed?' Or, did you cry out, 'Come see, he turned over in bed?' The reality is that you celebrated his turning over in bed. You expected him to crawl and to walk, in due time, but right now you enjoyed his progress. So shall I. you're right, we aren't even crawling but we have started. If in a year, all we're doing is what we are presently doing, I will join your lamentation, but until then I am going to celebrate that we have begun."
As I look back on the things we were writing and thinking and doing, eleven years ago, it is almost embarrassing, but we had started and today in some ways we are at the front of the parade if not leading the parade. Yet, I am confident that in eleven more years, we will look at what we are currently doing and think, "Can you imagine that we thought we were doing something special?" As we anticipate the future; we celebrate the present.
It is with this celebratory and anticipatory spirit that we offer these tools to all who will find them valuable. Hopefully, you will find them more valuable than what you will pay for them. We would welcome your feedback, positive or negative, on any of this work. Please understand, we do not represent this work as being complete or perfect. It is a start and that we celebrate, while anticipating improvement as we move along.
The full name of this template is Guidelines for Care of Nursing Home Patients. It consists of 28 sets of guides for treatment of specific problems which are common in many clinical settings particularly in long-term residential care.
Nursing Home Guidelines for Care Template
From the Nursing Home Master template, click the Guidelines for Care button located in the right hand navigation menu.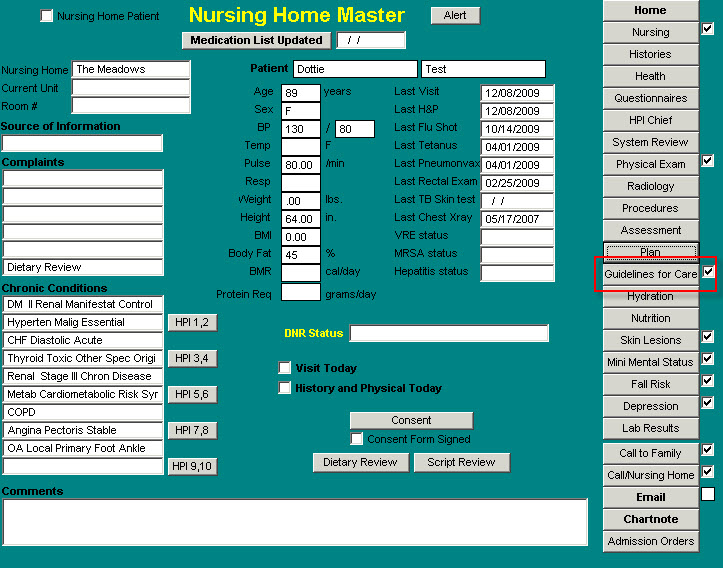 Essentially, the template operates as follows:
When a patient exhibits the signs and symptoms of a condition whose treatment is covered by one of the guidelines, the guideline set related to that condition is checked.
This launches a pop-up with suggested guidelines for the treatment of that condition.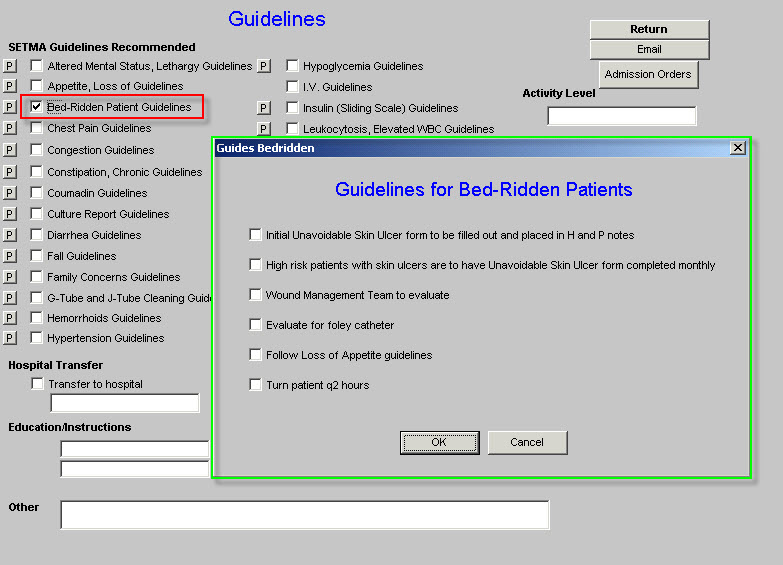 The elements of those guidelines which are relevant to the particular patient being treated are checked.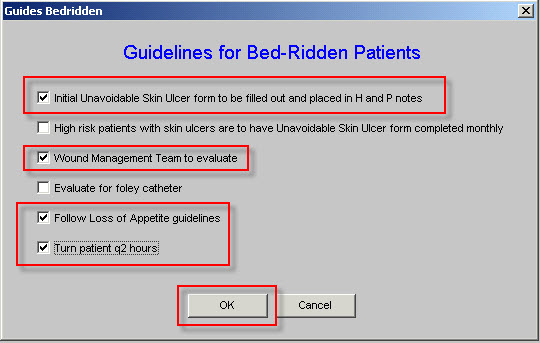 Then the document button in beside that check box in front of that guideline is depressed.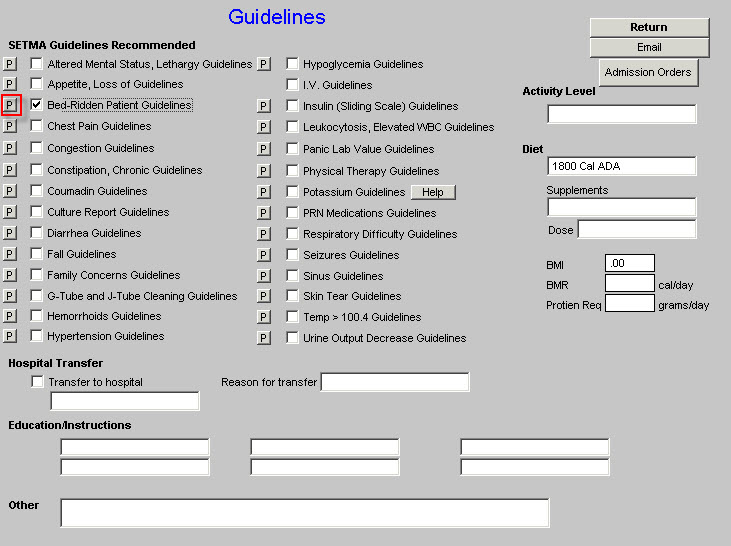 The suggested guidelines which were selected will print on a separate note which can then be put on the Nursing Home chart as an order.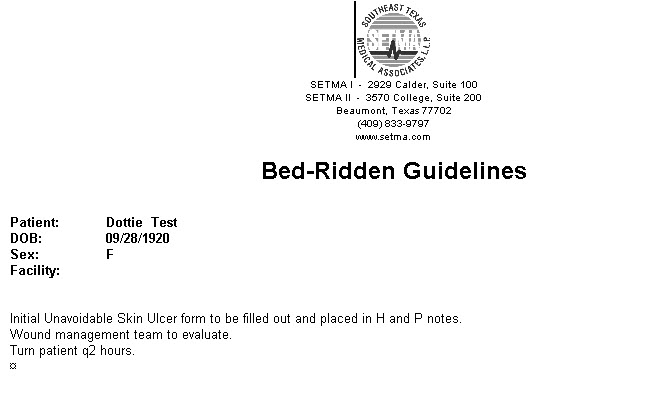 Also, those guidelines will appear on the Nursing-Home-Chart-note document which is generated after the completion of the patient evaluation.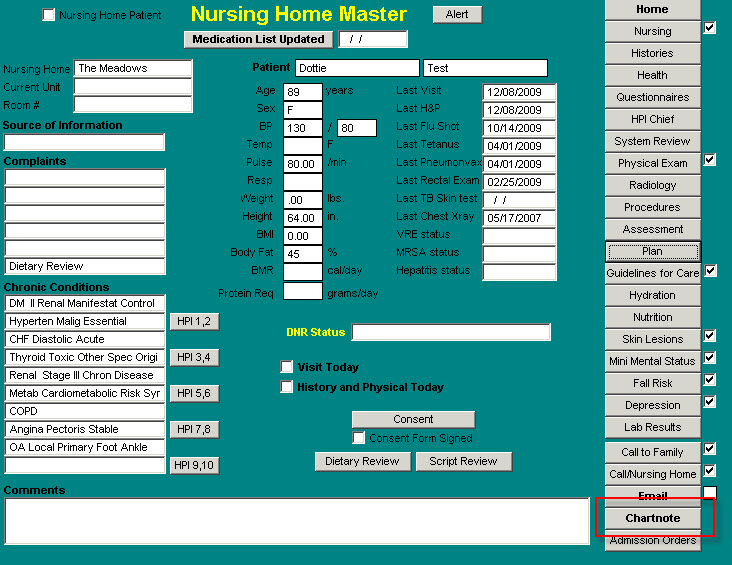 The organization of this template is as follows:
28 Sets of SETMA Guidelines Recommended
Beneath the Guidelines are the following:
Hospital Transfer
A box to document Transfer to Hospital
A space to document which Hospital with a pop-up with the names of local hospitals.
A box to document the Reason for Transfer with a pick list which pops up for selecting the reasons for transfer to the hospital
Education/Instructions
There are six boxes where the education and or instruction where were given can be documented. There is a pick list for selecting the most common educational initiatives and instructions which were given.
Other
This is a comment box which allows the documentation of any other information relevant to Guidelines of Care which are not covered by the above.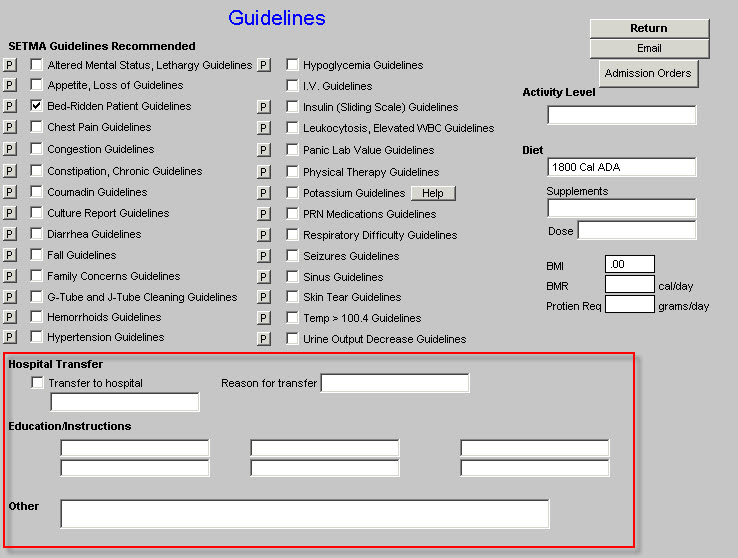 On the right hand side of the template are the following:
Return - a navigation button which returns to the Nursing Home Master Template
E-mail link which allows the information in a particular guideline to be communicated to a nurse or nursing home.
Admission Orders - a link which allows the completion of a set of hospital orders. For information on how to complete a hospital order, Click Here
Activity Level -- This allows the documentation of the patient's activity level. There is a pick list which allows that documentation.
Supplements -- This allows for the documentation of the patient's food supplement program. There is a pick list from which to complete this documentation.
Dose - this allows the documentation of the volume and/or frequency of the supplement's administration.
BMI - these three elements of the patients vital signs are pulled automatically into this template as they are of paramount importance in the care of patients who may be at nutritional risk.
BMR
Protein Requirement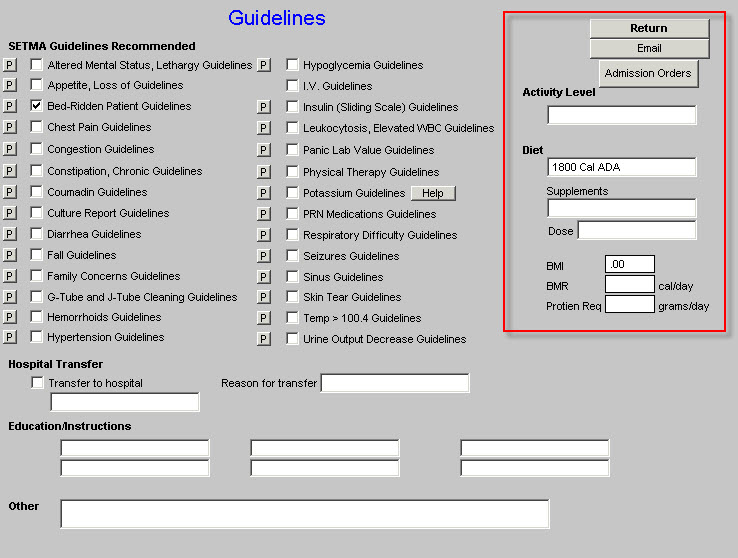 The following is a review of the 28 guidelines which are available for use.
Altered Mental Status, Lethargy Guidelines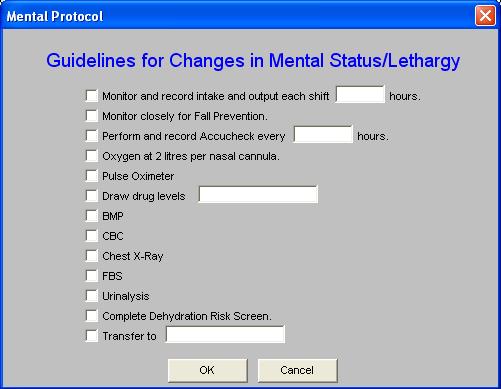 Appetite, Loss of Guidelines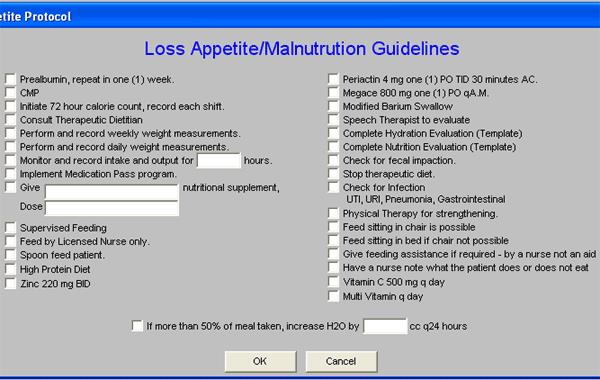 Bed-Ridden Patient Guidelines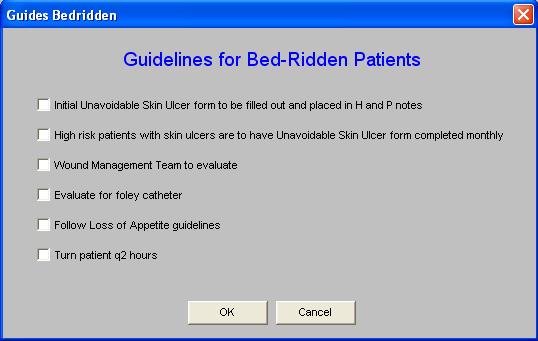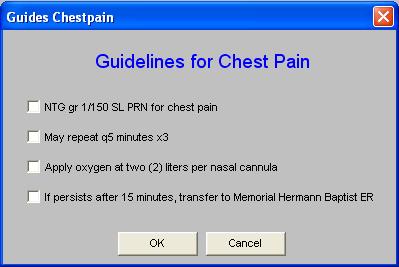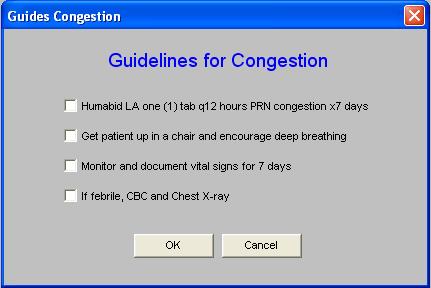 Constipation, Chronic Guidelines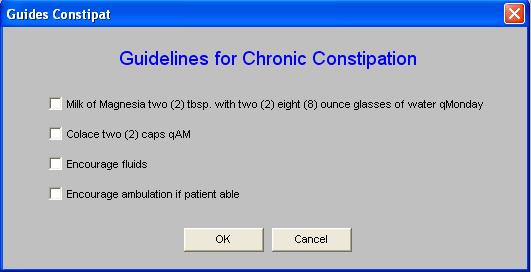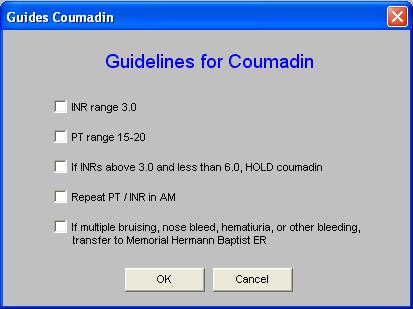 Culture Report Guidelines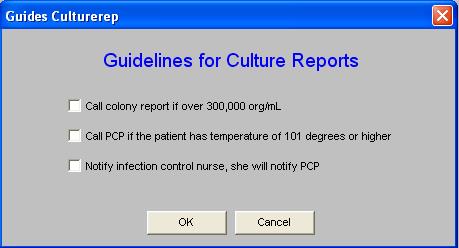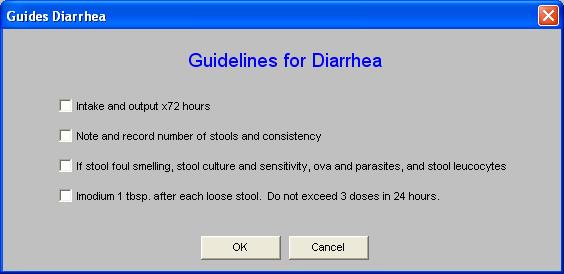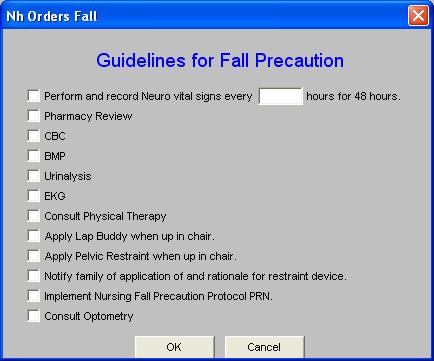 Family Concerns Guidelines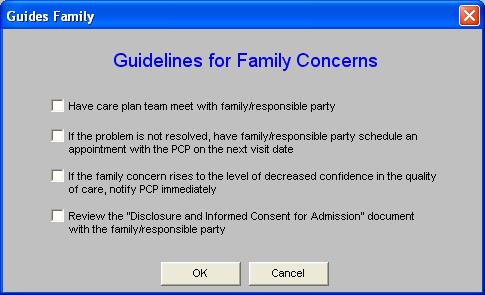 G-Tube and J-Tube Cleaning Guidelines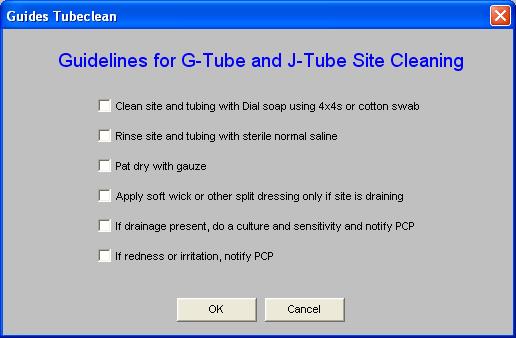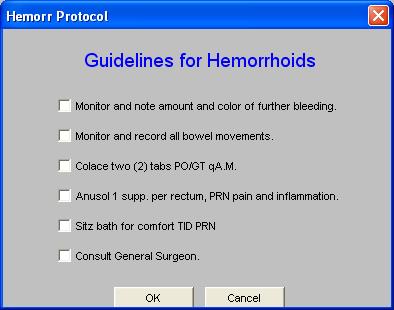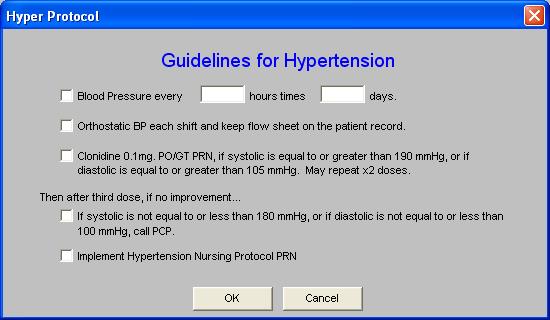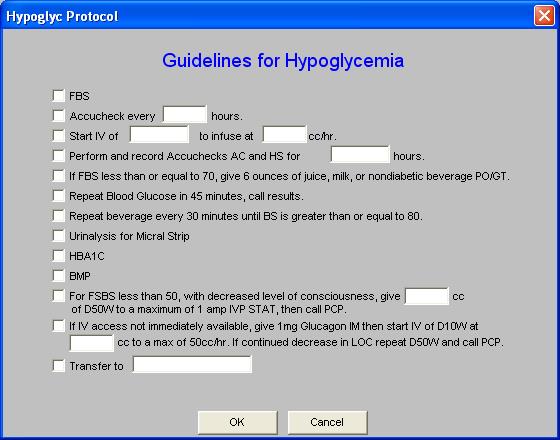 I.V. Guidelines - this launches the Hydration Template. For the use of the template please see the Hydration Assessment Tutor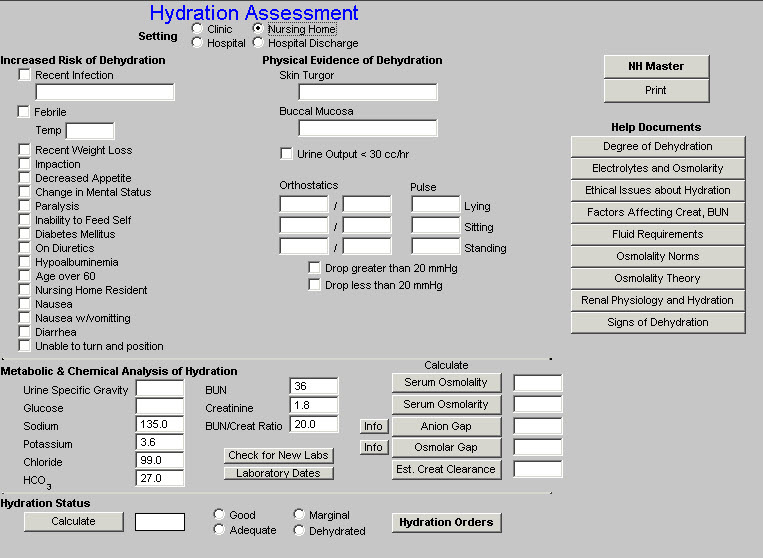 Insulin (Sliding Scan) Guidelines - this launches a pop-up which allows the provider to designate the patient's sensitivity to insulin.
This is done from the pick list which appears when the box entitled Patient Sensitivity is accessed.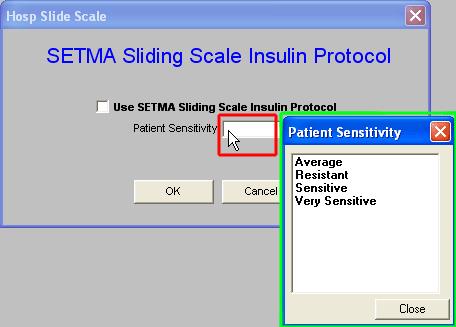 It is possible to use the SETMA Sliding Scale Protocol which defaults to an "average" insulin sensitivity.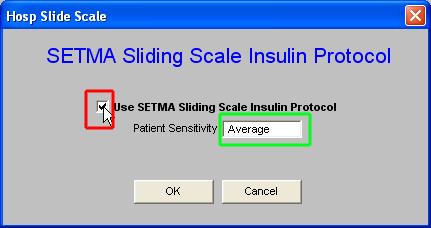 Leukocytosis, Elevated WBC Guidelines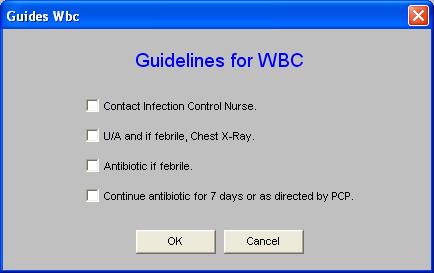 Panic Lab Value Guidelines - this guideline presents nine lab and/or procedure scenarios wherein abnormal results are obtain.
Guidelines for responding to these are given.
The provider can check the box beside the test which is abnormal and this will print on the document generated by clicking on the "P."
Physical Therapy Guidelines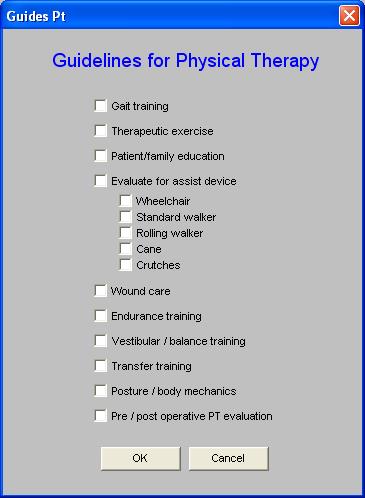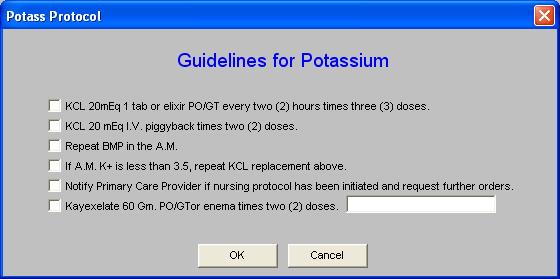 Help Button
Note: There is a Help button beside the Potassium Guideline. When the button is depressed a document entitled, "IV Potassium Administration," appears which gives details about Potassium replacement.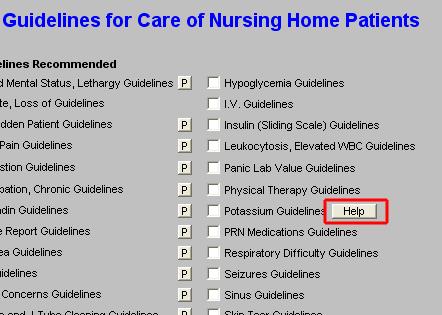 PRN Medications Guidelines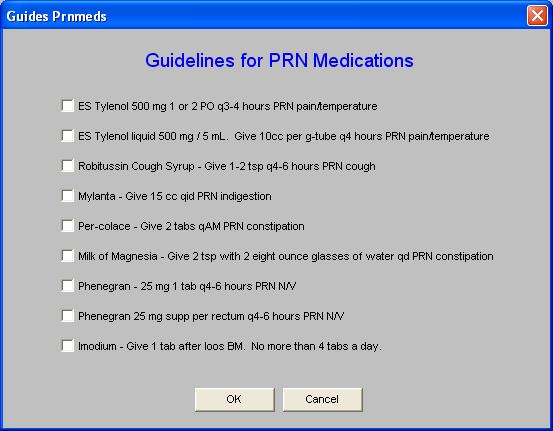 Respiratory Difficulty Guidelines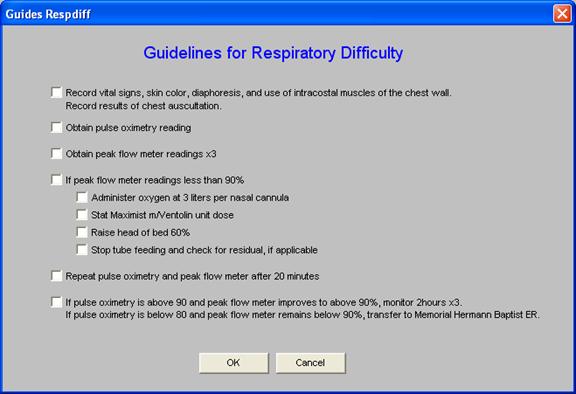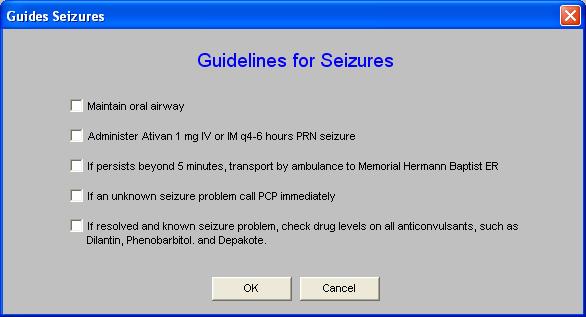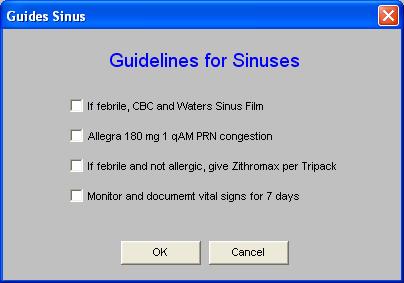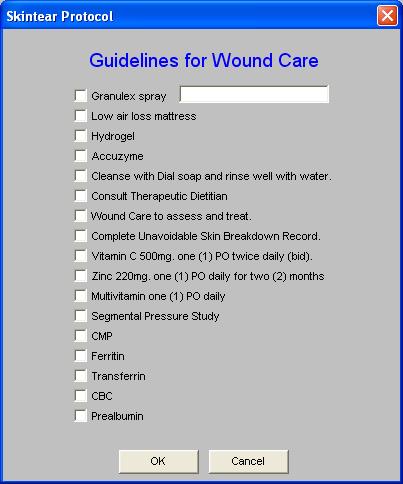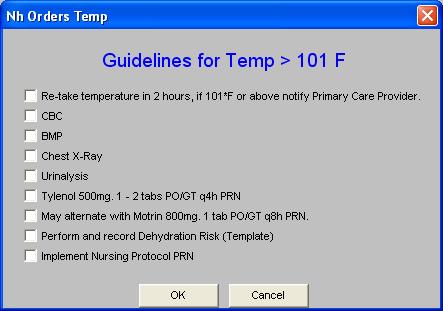 Urine Output Decrease Guidelines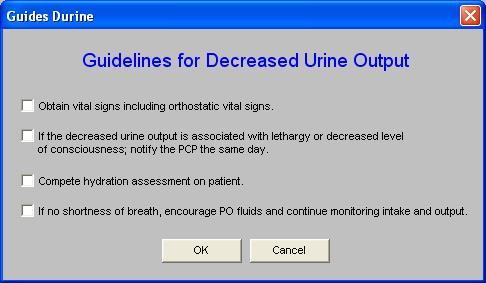 Once one or several of the Guidelines have been accessed and documented for a patient, the button beside each of the Guidelines which have been used is depressed which generates a document for that guideline which can then be printed and placed on the patient's chart. See example above.
These guidelines will also print on the patient's chart note.