The following letter was written to RTI International, the research group which prepared the Medical quality, coordination and cost analysis for CMS. I asked two questions: one about the bench marks and the other about the influenza data. Their response follows this analysis and RTI agrees that because this study was done on CMS charge data, flu shots are inaccurate, as many of our patients get flu shots in pharmacies, hospitals, nursing homes and other places. We collect the data but we do not bill CMS. Because this study was done on billing data, for flu shots, their data is inaccurate.
SETMA I (Calder)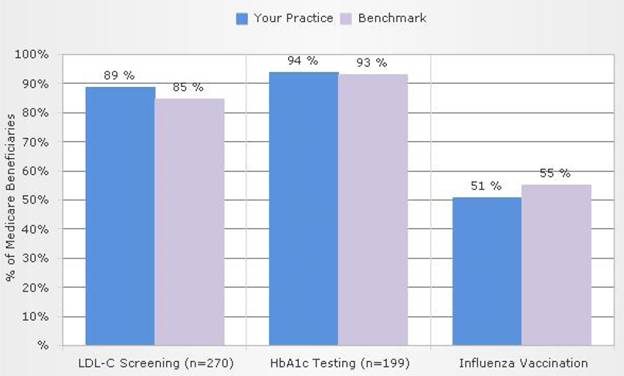 SETMA II College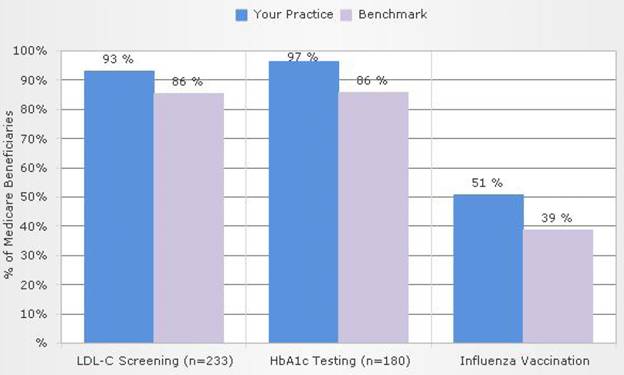 Mark A Wilson Clinic (Dowlen)
These are the comparisons of SETMA's performance on LDL, HgA1C and Influenza immunizations against "bench marks." I have several questions and one comment which do not fit into your questionnaire:
Why are the benchmarks different for each clinic?
Overall, as the study's authors, what is your judgment of SETMA's results?
Influenza Immunization Numbers
My comment is concerning the influenza numbers. Patients have learned to get influenza immunizations at many different places, i.e., pharmacies, hospital, emergency department, the VA, other clinics, etc. SETMA captures the overwhelming majority of these but they are not billed by us to CMS thus according to the process of this audit these patients would not appear to be counted.
The following are our results for FFS Medicare and also all Medicare (FFS, Medicare Advantage and Dual Eligible) during four periods:
The first column is the same period you measured (July 1, 2009 to June 30, 2010) and is just the FFS Medicare.
The second column is the same period you measured (July 1, 2009 to June 30, 2010) except it is all Medicare seen at each clinic whether FFS or Medicare Advantage or Dual Eligible.
The third column is the same group you measured for the year July 1, 2010 to June 30, 2011.
The fourth column is all Medicare patients for July 1, 2010 to June 30, 2011 whether FFS or Medicare Advantage or Dual Eligible.
Note: I personally am at SETMA 2.
SETMA's Audited Influenza Immunization Statistics for two years and two different populations
to compare with the statistics from the CMS study
| | | | | |
| --- | --- | --- | --- | --- |
| Clinic | 7.1.09 - 6.30.10 CMS Study | 7.1.09 - 6.30.10 All Medicare | 7.1.10 - 6.30.11 CMS Study | 7.1.10 - 6.30.11 All Medicare |
| SETMA 1 | 54.3% | 57.5% | 57.5% | 61.2% |
| SETMA 2 | 57.4% | 73.7% | 71.1% | 83.0% |
| SETMA W | 53.0% | 62.2% | 60.2% | 68.9% |
If a patient refused an influenza vaccine, they were included in the denominator but if they were allergic to the vaccine, they were excluded from the denominator.
From the results, I have designed a plan for improving the results for our FFS Medicare immunizations over the next three months.
James L. Holly, MD
CEO, SETMA, LLP
www.jameslhollymd.com
The following is RTI International's Response
"Hi Dr. Holly,
"The benchmarks are from a predictive model that uses the comparison group performance and models the relationship between the outcomes and practice characteristics such as average health status of beneficiaries assigned to the practice, size of practice, type of practice, etc. To the extent that your two clinics have different characteristics you will have different benchmarks.
"I have always had reservations about reporting influenza vaccination from Medicare claims data. And, your data shows why I am hesitant. We simply do not capture in our rates vaccinations provided to Medicare FFS beneficiaries that are not subsequently billed to Medicare. You clearly have a more robust system for capturing the actual rate of receipt among your patients. However, you could look at the differences in the rates as a business opportunity (she says somewhat tongue in cheek J)." (Emphasis added)
In another conversation, the following assessment of SETMA's result was offered by an RTI International participant in the study: "You should be proud of SETMA's results; it is excellent."